Beaver Bitcoin converts dollars from your bank account into bitcoin in your bitcoin wallet, automatically, every week. All you have to do is connect your bank account and set a weekly buy amount.
After that, we automatically withdraw CAD $ from your bank account, convert it to bitcoin, and deliver it to you on a regular weekly basis.
That's the short answer.
The longer answer is that we work with a number of third-party service providers to make this happen.
All of our partners are Canadian companies, and in our opinion, represent the industry standard for each of their respective functions. We've included them in brackets below.
On the backend, Beaver Bitcoin connects to your bank account (via Flinks) and authorizes a weekly transfer from your account for the amount of your weekly buy. In order to receive the funds, we initiate an EFT transfer with your bank (via our payments processor, Apaylo). This type of transfer is also referred to as a PAD, for Pre-Authorized Debit, and allows us to withdraw CAD $ from your account on a weekly basis, with no action required from you (aside from the initial authorization provided during sign up). This transfer typically lands within two days.
Note, your transfers with Beaver Bitcoin will appear in your online banking transaction history from 'Apaylo'. See an example below, for a $100 weekly buy.
Once we receive CAD $ from your bank, we hold onto it for three days as a fraud prevention measure and to lower the risk of the funds returning NSF (insufficient funds). After the three day hold, we convert the CAD into bitcoin with our liquidity partner (Aquanow), who immediately delivers the bitcoin to your personal bitcoin wallet.
After signing up and creating a buy, you'll receive your first bitcoin within 5 days, and then every 7 days after that.
In your Beaver Bitcoin dashboard, you'll find two feeds. One to track the status of your current transfer (Transfers), and another to view your completed buys (Purchases). We also show the total amount of bitcoin you have purchased through Beaver. Note, this amount is just your total saved through Beaver, and is not connected to your bitcoin wallet address.
Additionally, you can expect to receive an email notification for every EFT transfer/withdrawal from your bank account. This email comes from our payments processor, Apaylo, and looks like this: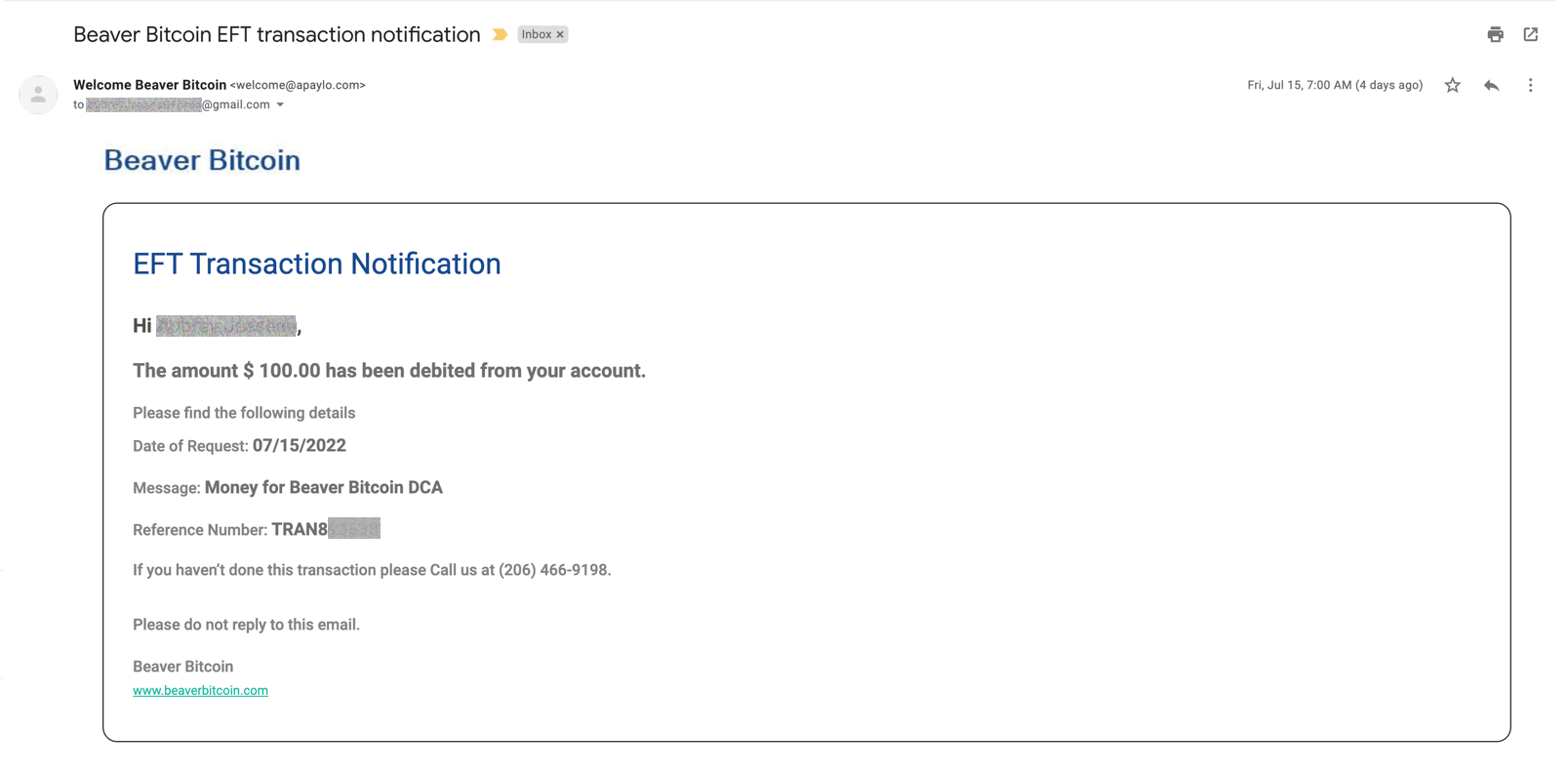 Lastly, you'll receive an email from us once we have delivered your bitcoin, letting you know your stack was a success.
To get started, sign up here!